Max Frintrop
Max Frintrop (born 1982 in Oberhausen) lives and works in Düsseldorf. He studied at the Academy of Art in Düsseldorf under Prof. Albert Oehlen from 2003 till 2009 and is represented by the galleries Berthold Pott in Cologne, A+B gallery in Brescia and Andersen Contemporary Kopenhagen. Currently Max's paintings are on view in the group exhibition at Kunstmuseum Bonn, Museum Wiesbaden, Museum Gunzenhauser and Chemnitz from September till December 2019. In 2020 in the group exhibition at Museum Deichtorhallen, Hamburg.
___
"Everything must remain in motion so that the picture or the sculpture maintains its meaning. On the micro level, the object slowly falls apart and passes back into the space, thereby also changing the viewer, both in terms of his/her thinking and his/her very existence. Art always means change on all levels.
Max Frintrop's pictures and sculptures often seem like messengers from another dimension, likebeings working on a plan – and we do not know if these beings will be for or against us. The pictures are waiting for their opportunity. The persepective is often merely a deception. Max Frintrop uses the medium of painting to challenge the dimension of space. He is a traveller through the dimensions and a researcher of the possibilities of space, continuously questioning the concept of space."
___
Excerpt of the text by Mirko Strauch in "Max Frintrop. Ich will aus meinem Herzen keine Mördergrube machen" published by Walther König, Cologne, 2016
Selected exhibitions – Solo (S), Group (G): Jetzt! Junge Malerei in Deutschland, Museum Deichtorhallen, Hamburg, Germany (from Jan. 2020), Kunstmuseum Bonn, Museum Wiesbaden and Museum Gunzenhauser, Chemnitz, Germany (Sept-Dec 2019) (G); "Lardo" at Berthold Pott, Cologne, 2019 (S); "Chansons dans le vide", Albert Baronian, Brussels, Belgium, 2018 (S); "Mi Par D´Udir Ancora"  at AplusB, Brescia, Italy, 2017 (S); "Keine Welt" at Kunstverein Heppenheim, Germany, 2017 (S); "Fasi Lunari" curated by Albert Oehlen at Fondazione Carriero, Milan, Italy, 2016 (G); "Daily Bread"  at Lyles & King, New York, USA, 2016 (S); "Frontron" at Berthold Pott, Cologne, 2016 (S); You should be here"  at Andersen´s Contemporary, Copenhagen, Denmark, 2015 (S); "Leverage" at Berthold Pott, Cologne, GER, 2014 (S); "Salad Days" Max Frintrop and  Michail Pirgelis, Kunstverein Parkhaus im Malkastenpark, Düsseldorf, GER, 2013 (Duo); "Ricochet" at Berthold Pott, Cologne, GER, 2012 (S)
About Max's edition for leikela:
Roadhouse
Edition: Linocut print in two different color variations (black or blue), each unique, edition of 24 + 4 AP, 29,7 x 42 cm, 2019. Certificate of authenticity is included
The Roadhouse edition, printed using the linocut technique, takes on an extraordinary and solitary position in the work of Max Frintrop. Wide, black lines take their courses, at times forming parabolas, then becoming angled crosses once again. Their position in the space oscillates between the foreground and background; it cannot be conclusively determined, paradoxically the are preserved in motion. The background – or is it the foreground – is shaped by texture of multiple sets of parallel lines. They cross over each other, run into each other's paths, push themselves in front of the others, and produce an enormous amount of spatial volume on the surface. The aesthetic of the bundle of lines is derived from the aesthetic of the brushstroke, but the transfer of medium generates astonishing formal solutions.
Max Frintrop's trademark is actually color. His dynamic abstract paintings play with the multifaceted nature of the color spectrum. Multicolored brush strokes meander across the canvas, appearing like condensation trails coming off an object flying through a polychromatic universe. On other images, the multicolored surfaces are layered upon each other to generate depths of space that appear to follow their own laws of physics. In this work, Roadhouse, the artist translates this method of painting into a graphic arts method and accomplishes the seemingly impossible with it.
Nevertheless, this edition with a run of 24 is neither as black and white nor as serial as it appears. Instead, a hint of blue mixes itself into the black bit by bit. As a result, each print has a unique character, no sheet is identical to another, multiplicity becomes diversity.
Anne Simone Krüger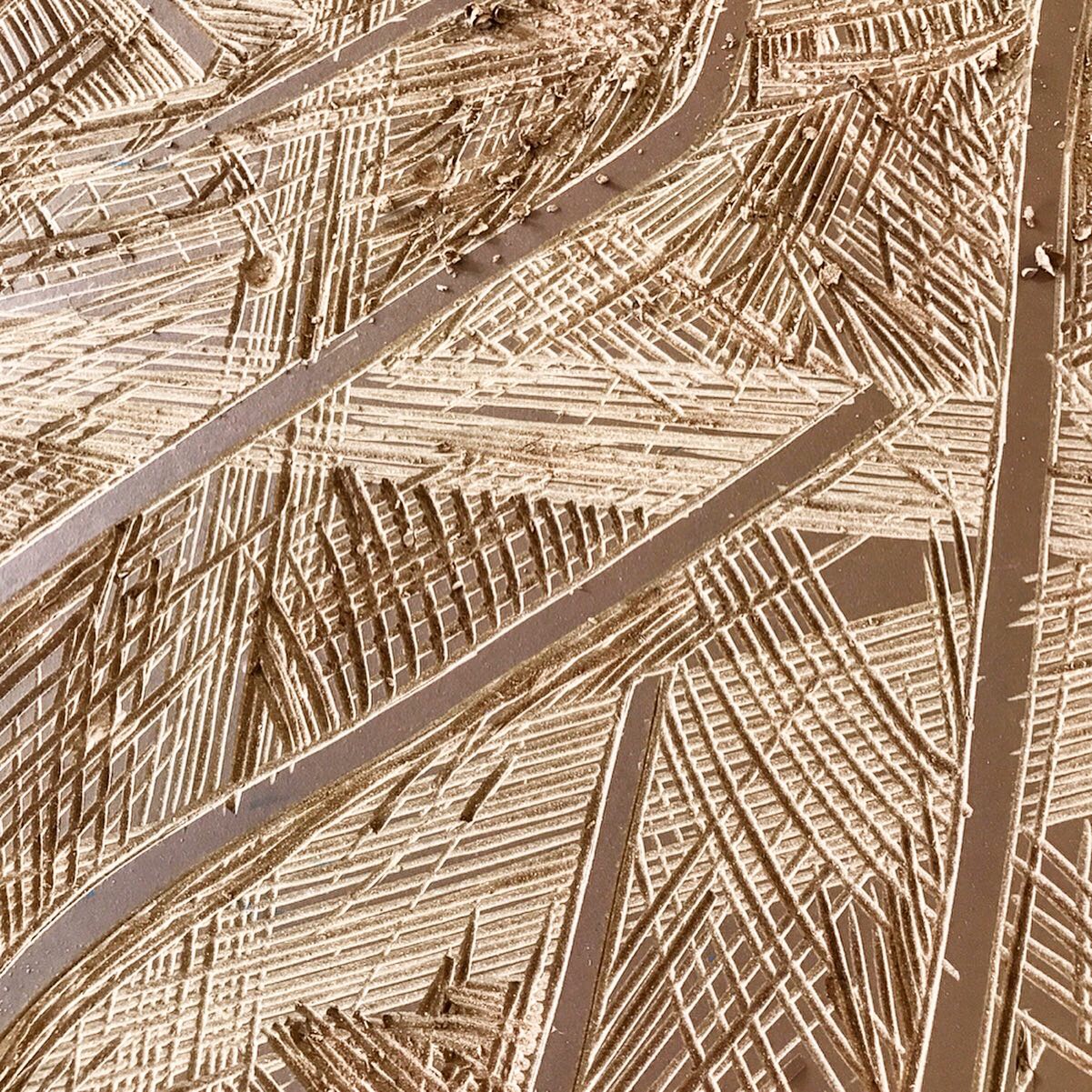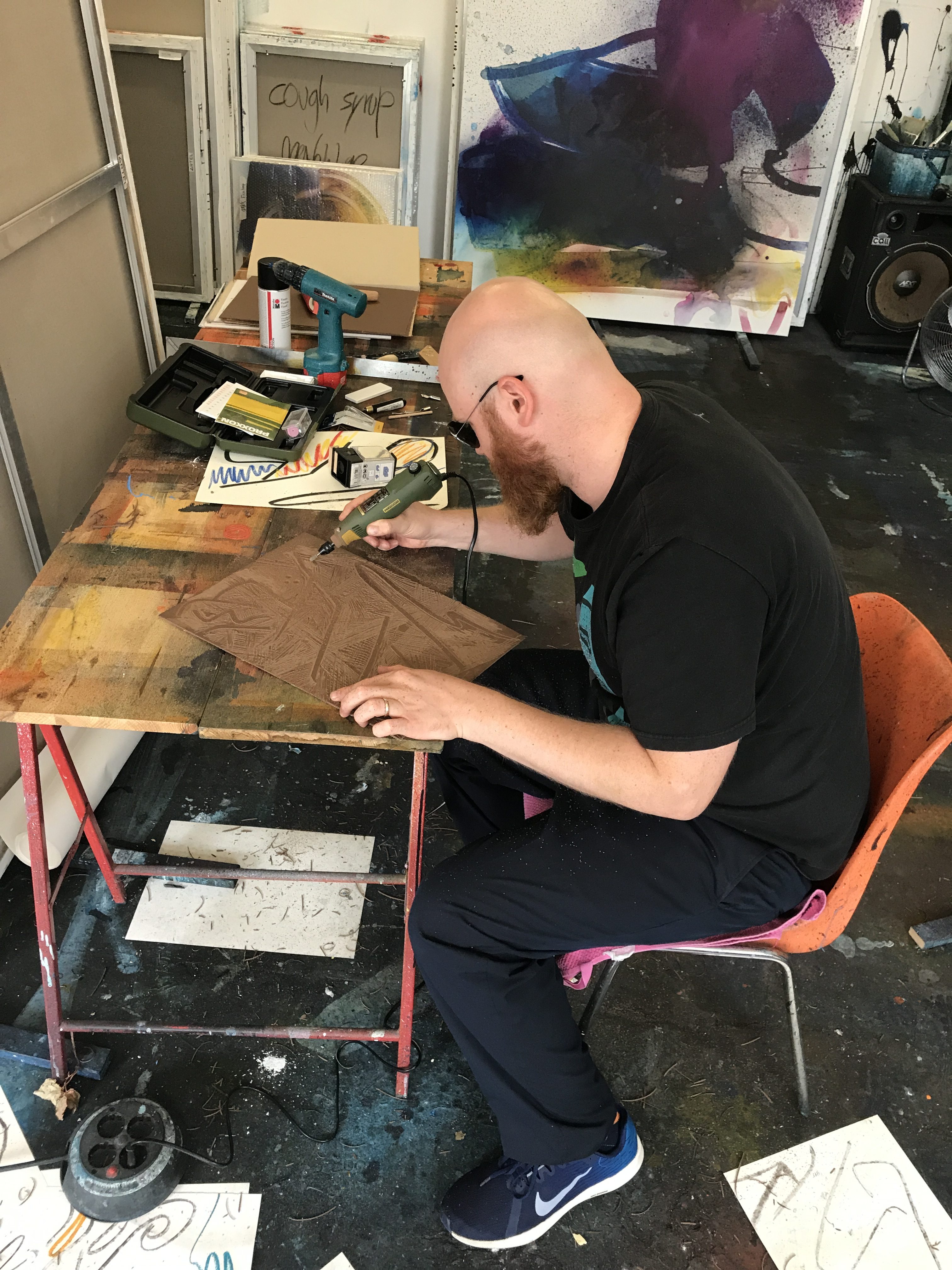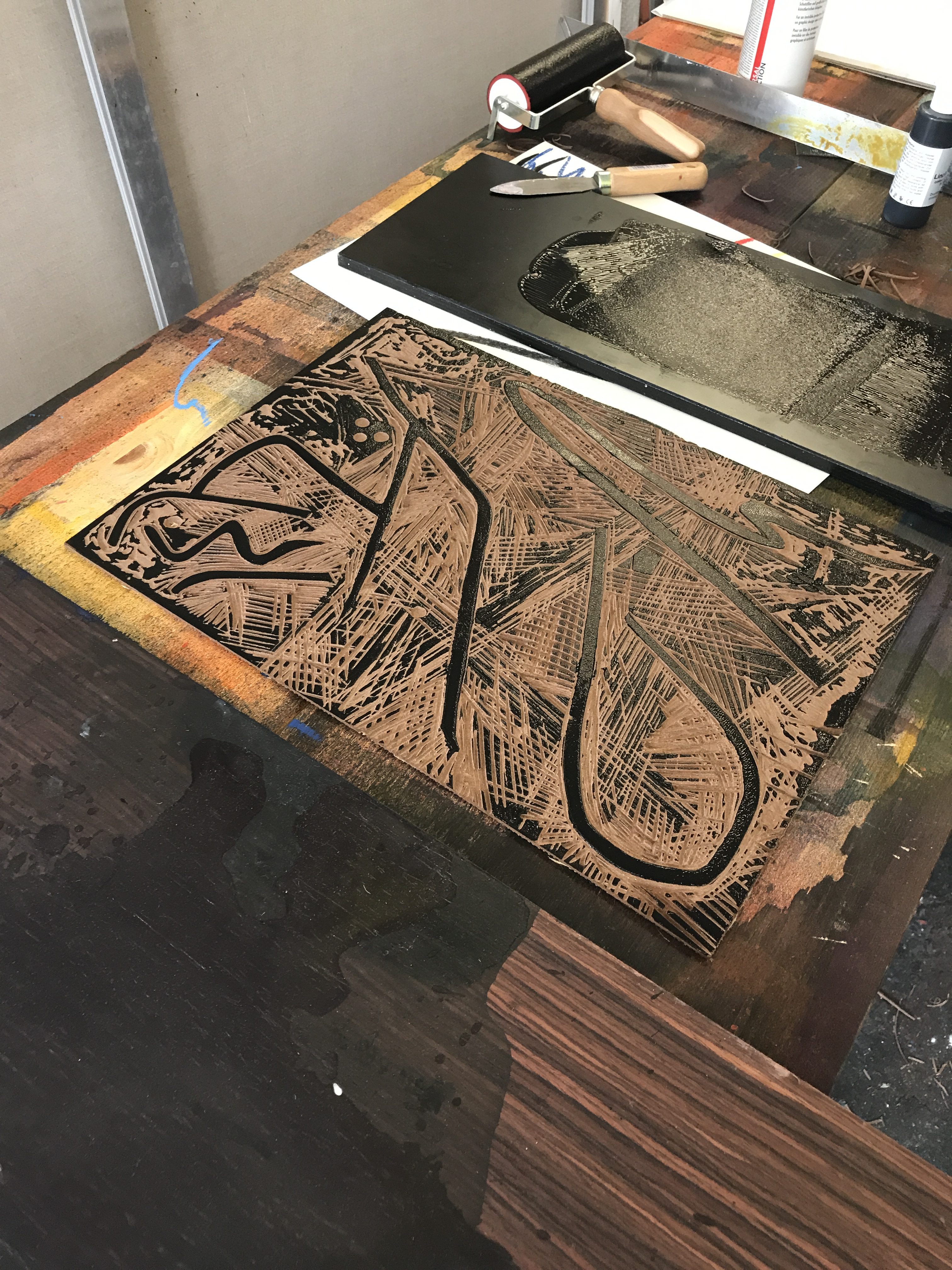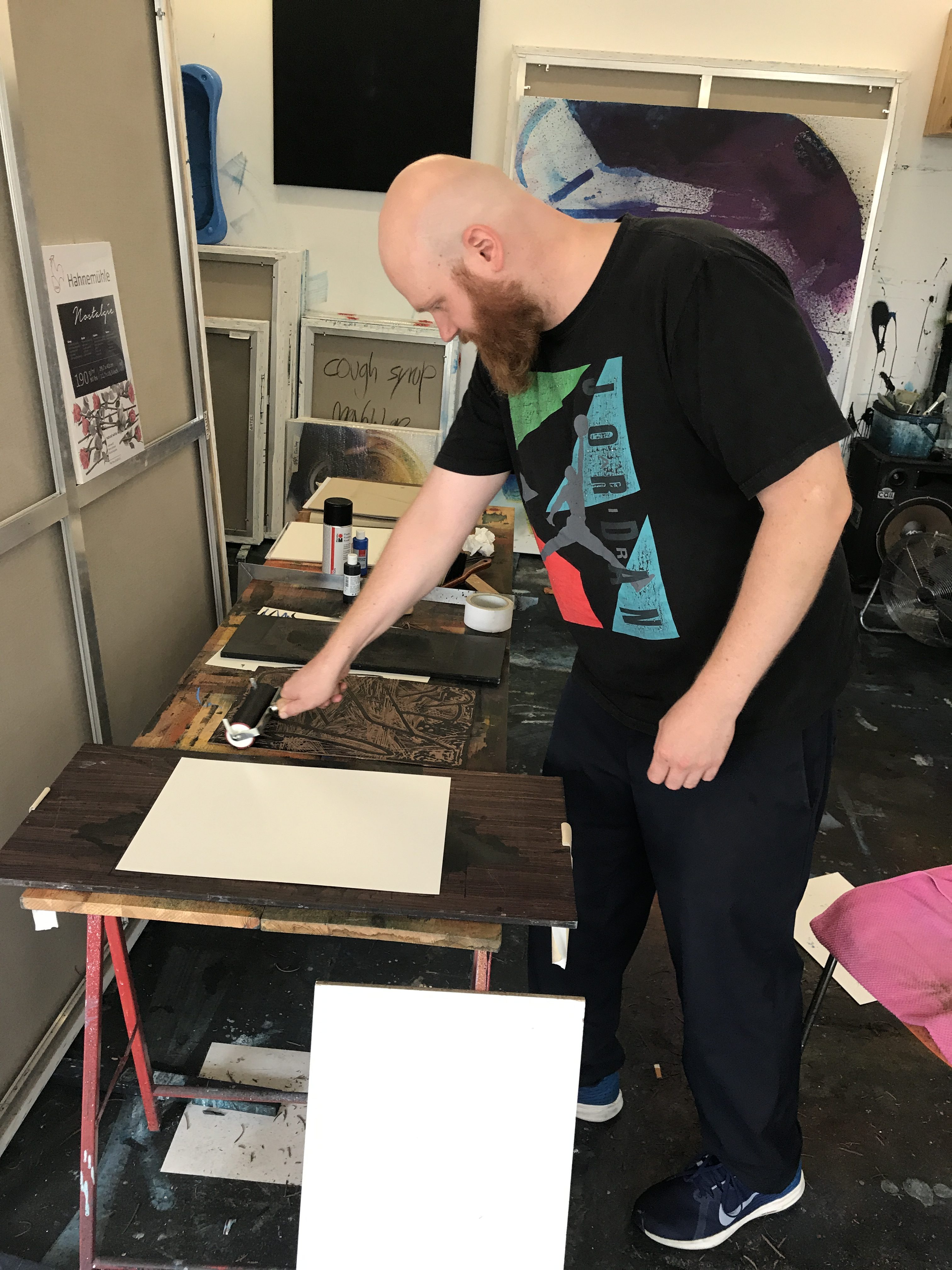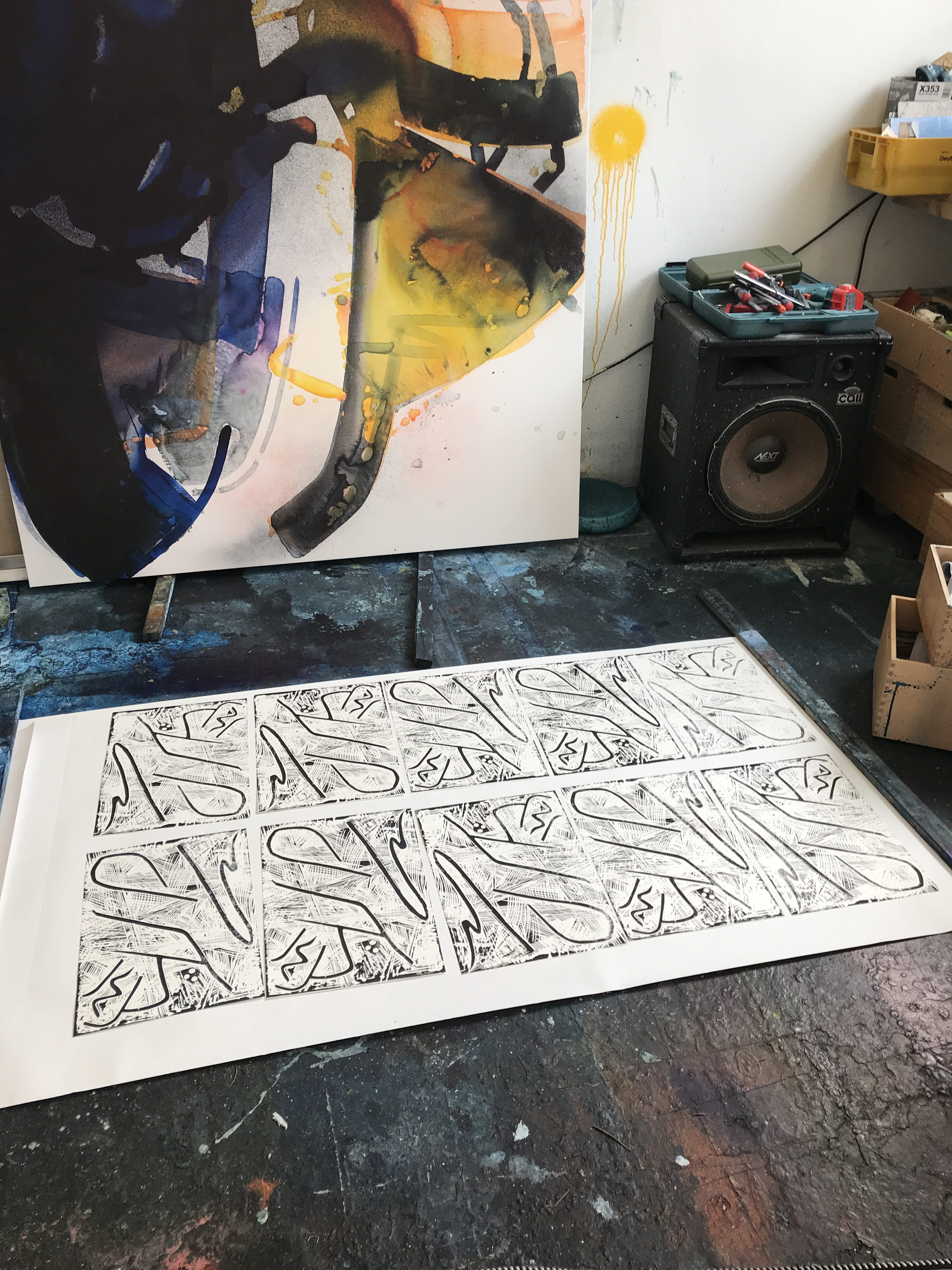 Other works by Max: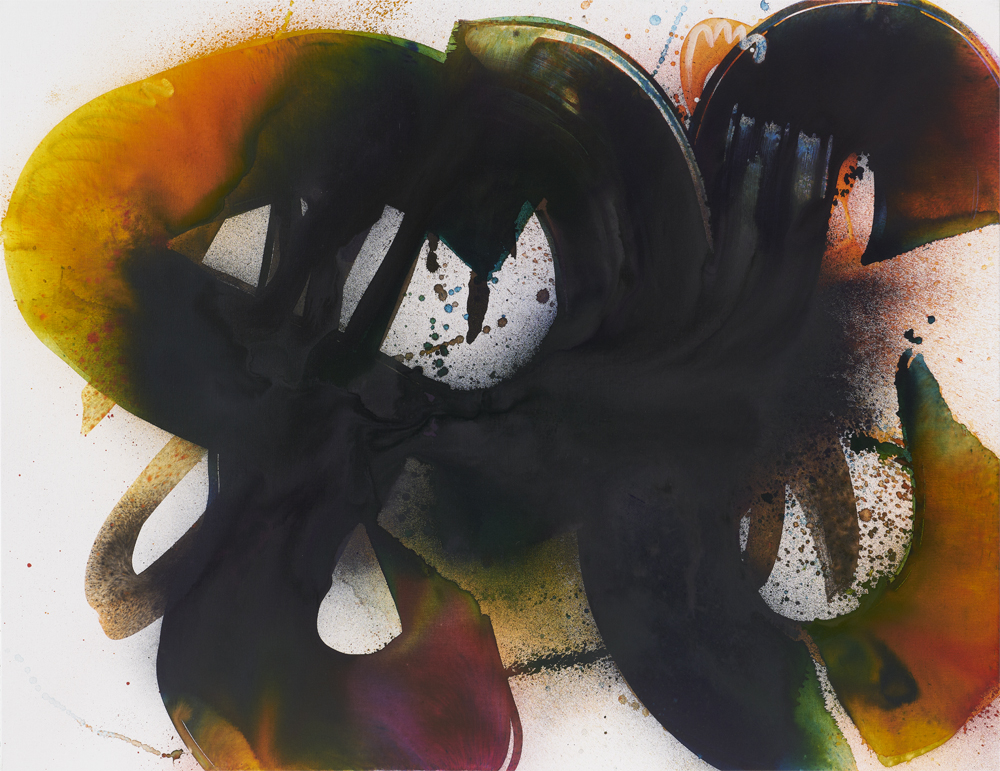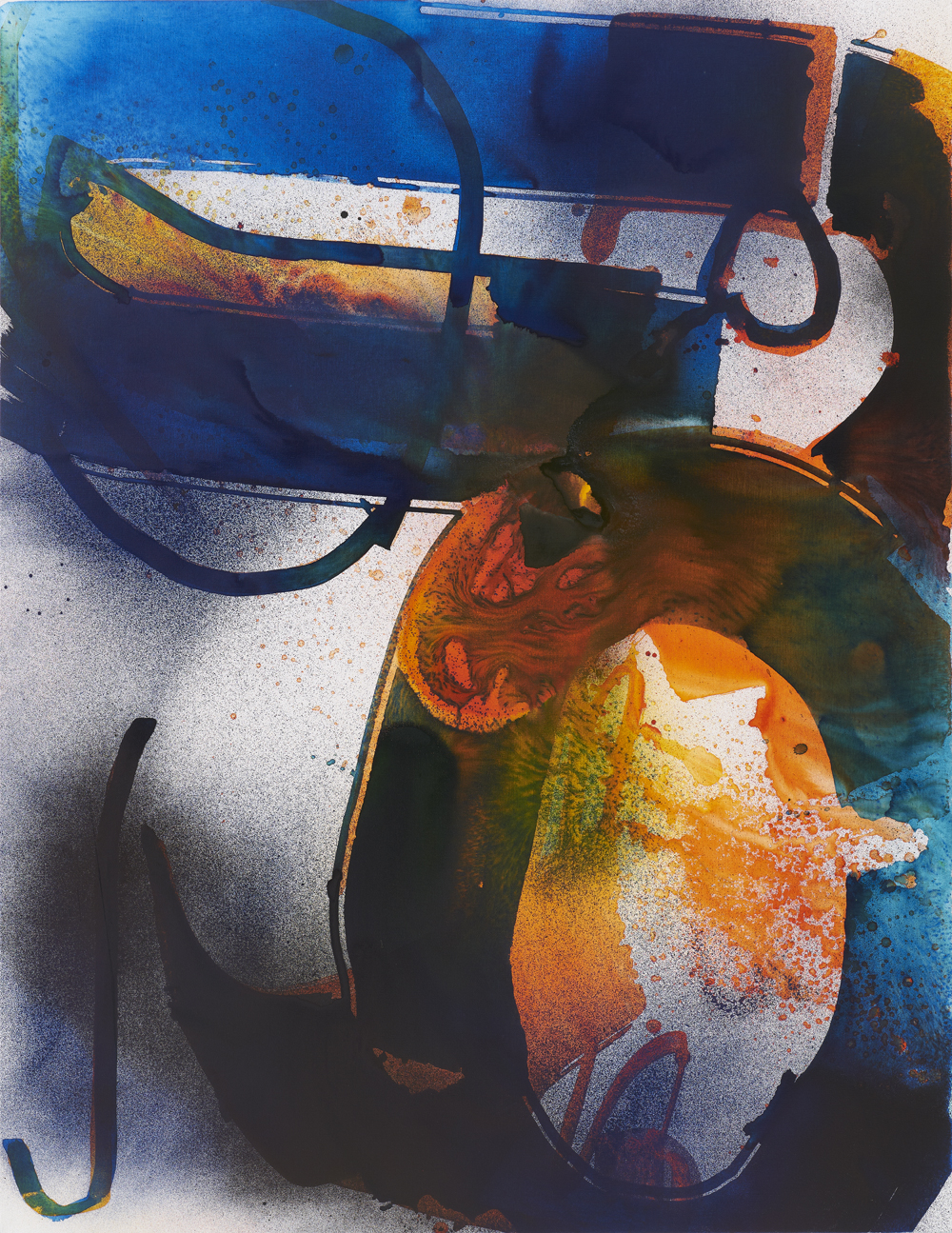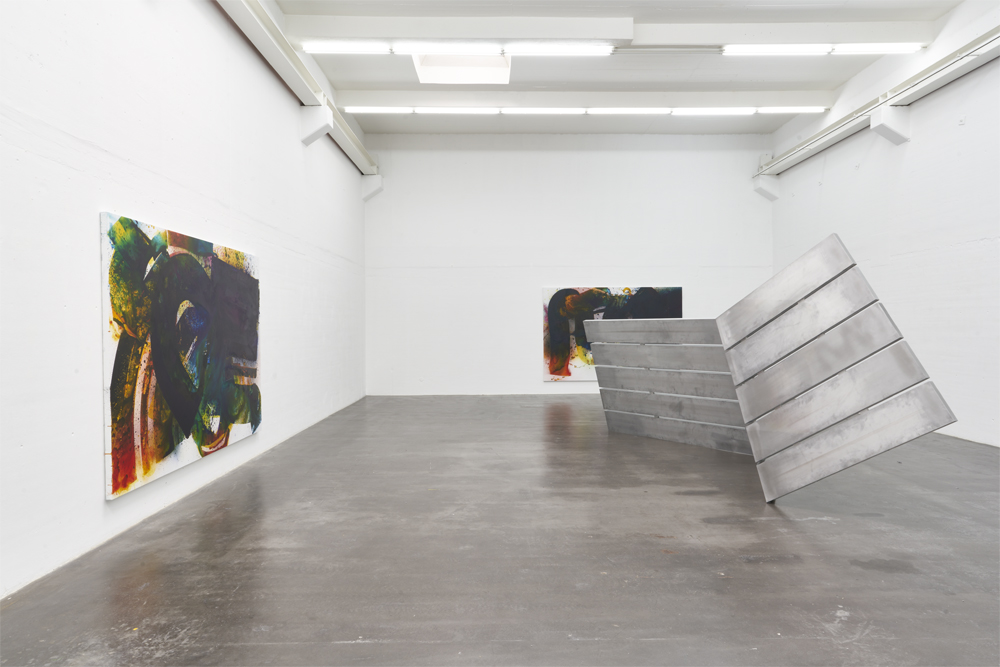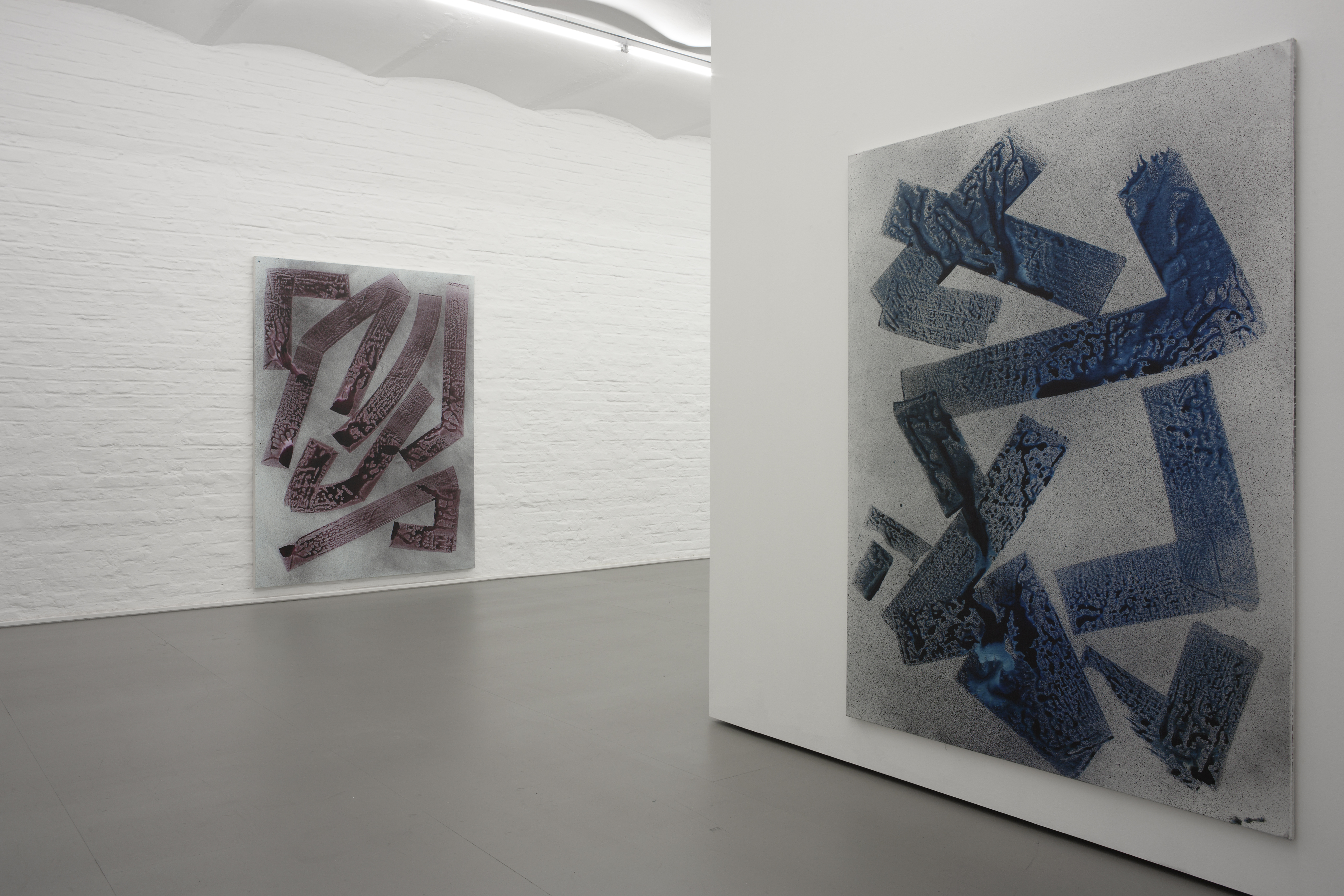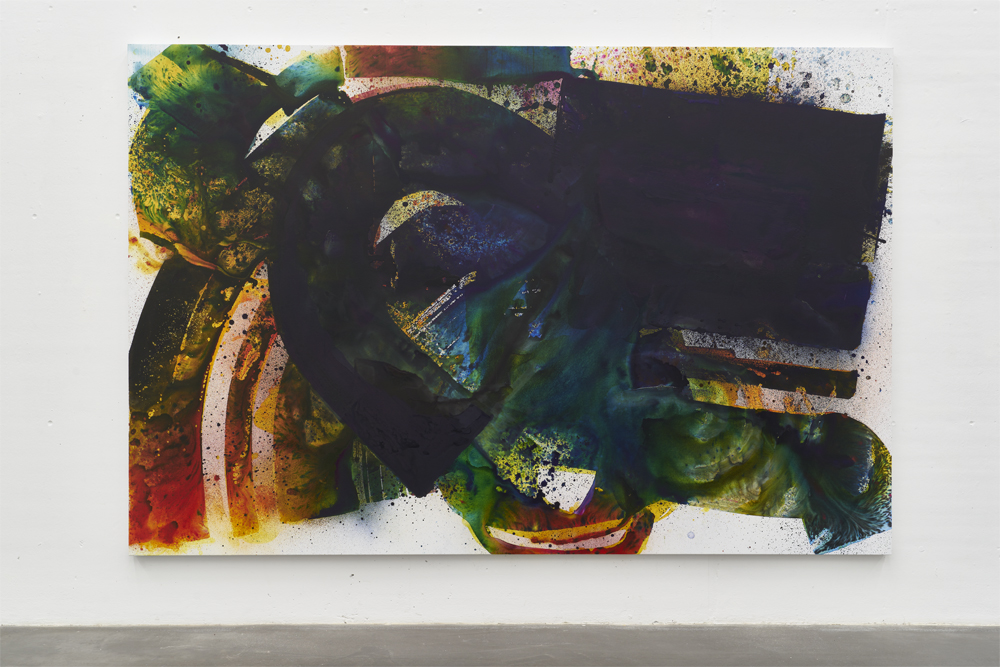 Photo credit: © Ben Herrmani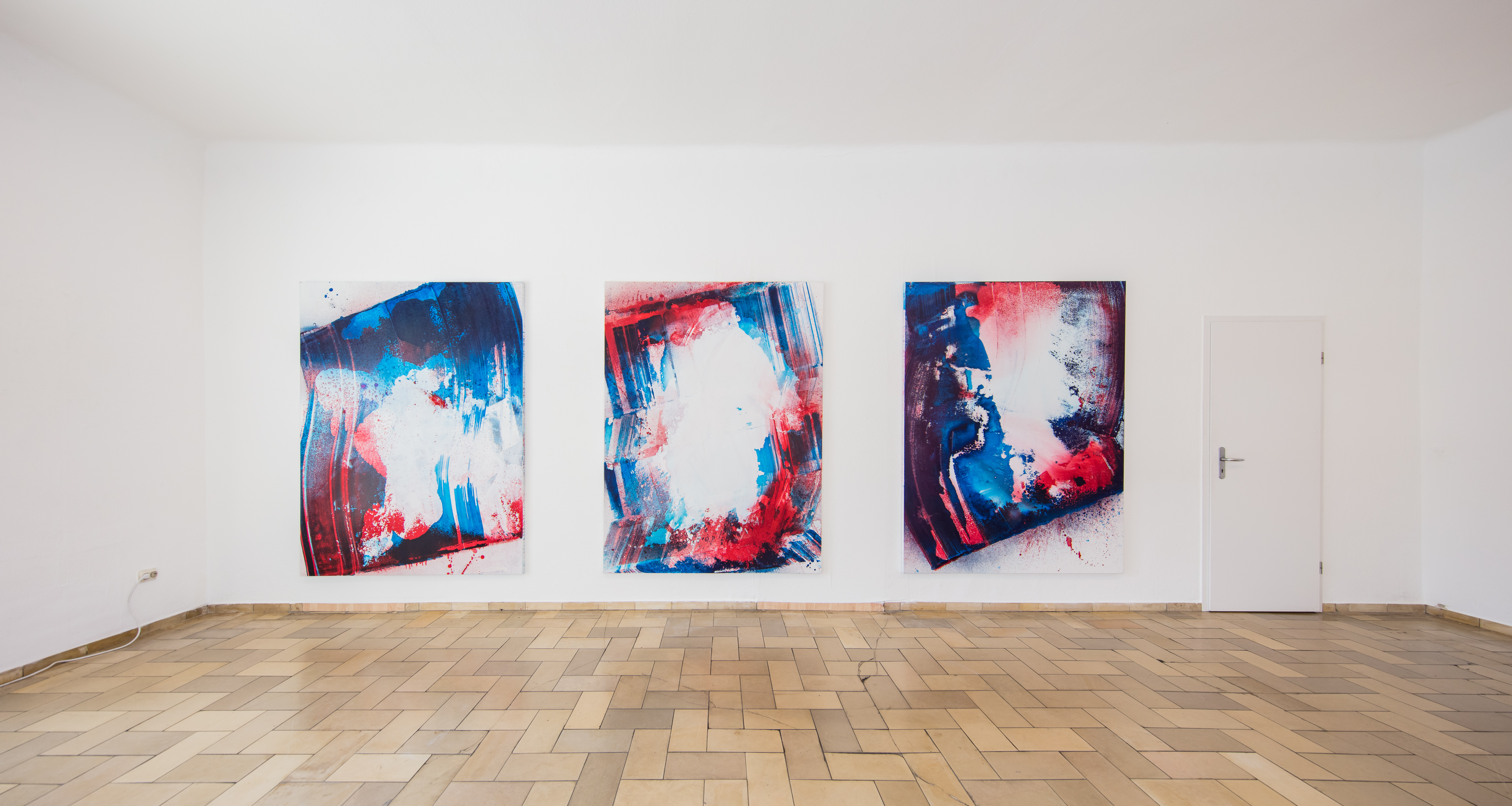 More about Max's work:
Max Frintrop Editions