Thomas Wachholz
Thomas Wachholz studied Communication design at University of applied Science Düsseldorf from 2006 – 2011. From 2011 on Thomas studied at the Art Academy Düsseldorf finishing with a Master class under Prof. Katharina Grosse in 2016. The same year he received the Atelierstipendium from Kölnischer Kunstverein, Cologne, Germany
Solo shows: "Allumettes Amorphes" Galerie Ruttkowski;68, Paris, France, 2020; "CAPRI" Kunstverein Heppenheim, Heppenheim, Germany, 2019; "Books and Boxes" Nino Mier Gallery, Los Angeles, USA, 2019; "Soft Painting", Galerie Lange + Pult, Zurich, Switzerland, 2018; "LIGHT", Natalia Hug, Cologne, Germany, 2017; "Fire Walk with Me", Ung5, Cologne, Germany, 2017; "Strike Gently", Mier Gallery, Los Angeles, USA, 2016; "Whiteout", Nymphius Projekte, Berlin, Germany, 2015; "Alcohol Works", Roberts & Tilton, Los Angeles, USA, 2014; "Reibfläche", RaebervonStenglin, Zurich, Switzerland, 2014; "Alkoholarbeiten", An der Schanz, Cologne, Germany, 2013.
A selection of group shows: "Hybrids", CFHILL Art Space, Stockholm, Sweden, 2020; "Mixed Pickles 8", Wilhelm Hallen, Berlin, Germany, 2020; "Paper (and one on wood), Nino Mier Gallery, Los Angeles, USA, 2020; "Alles Notwendige" Braunsfelder Family Collection, Cologne, Germany, 2020; "The Abstract Cabinet", Eduardo Secci Contemporary, Florence, 2019; "Rämistrasse 27", Galerie Lange + Pult, Zurich, Switzerland, 2019; Neighbours 8, Riot, Gent, Belgium, 2019; "Ansichtssache. Wie Bilder werden" Kunstraum Alexander Bürkle, Freiburg, Germany, 2018; Burnt it !, Krefelder Kunstverein, Krefeld, Germany, 2018; Neighbours 7, Jan Colle Gallery, Gent, Belgium; Unpacking: The Marciano Collection, Marciano Art Foundation, Los Angeles, USA, 2017 and more.
About Thomas' edition for leikela:
ZIC ZAC, three-colors linocut edition in two color variations on 300g Somerset Satin paper, individually printed by the artist , edition of 15 (15 per color); 65,5 x 49,5 cm, 2021. Certificate of authenticity is included. Photo credit © Miguel Ferraz
Thomas Wachholz' (*1984 lives and works in Cologne) paintings appropriate the visual language of matchboxes or matchbooks and transfer it into a dense net which triggers and investigates our personal memories and notions of symbolic codes and traces. An evolution in which the former layouts and figurations advance into colorful combinations that emerge through the elimination of visual information. Structured through opaque color fields, grids, and bright colored forms, the resulting paintings set up new rules on their own.
Flatt, sleek, elegant and like a visual lexicon, the resulting compositions within his paintings shift between signifier and surface. Within this conceptual process the myriad possibilities offered by abstraction become a tool to free the found images from their objecthood – and release its inner iconic notion like a burning matchstick.
For his first handprinted edition at leikela FINE ART ONLINE in Hamburg, Wachholz' takes up this idea of Conceptual pop and uses the iconic motive of a match as a compositional element whose recognizable form appears and yet turns abstract. Lively and vibrant like lightings, the individual shapes of the matches become independent and release the inherited inner architecture of the matchbox – almost as if they interact with their own silhouettes in a double-printed set. Enriched by several intertwined layers and two selected colored heads, each linocut print of the self-designed print process therefore consequently differs from each other and reflects Wachholz' serial approach developed within the layouts of his enigmatic paintings. This twisted interplay of original, copy and reference becomes amplified through a special CNC milling technique, which re-translates the digital, prefabricated system into the analog and handmade structure of the three-color linocut print while creating independent and playful compositions filled with surreal poetic references.
Text by Philipp Fernandes do Brito
Edition in progress: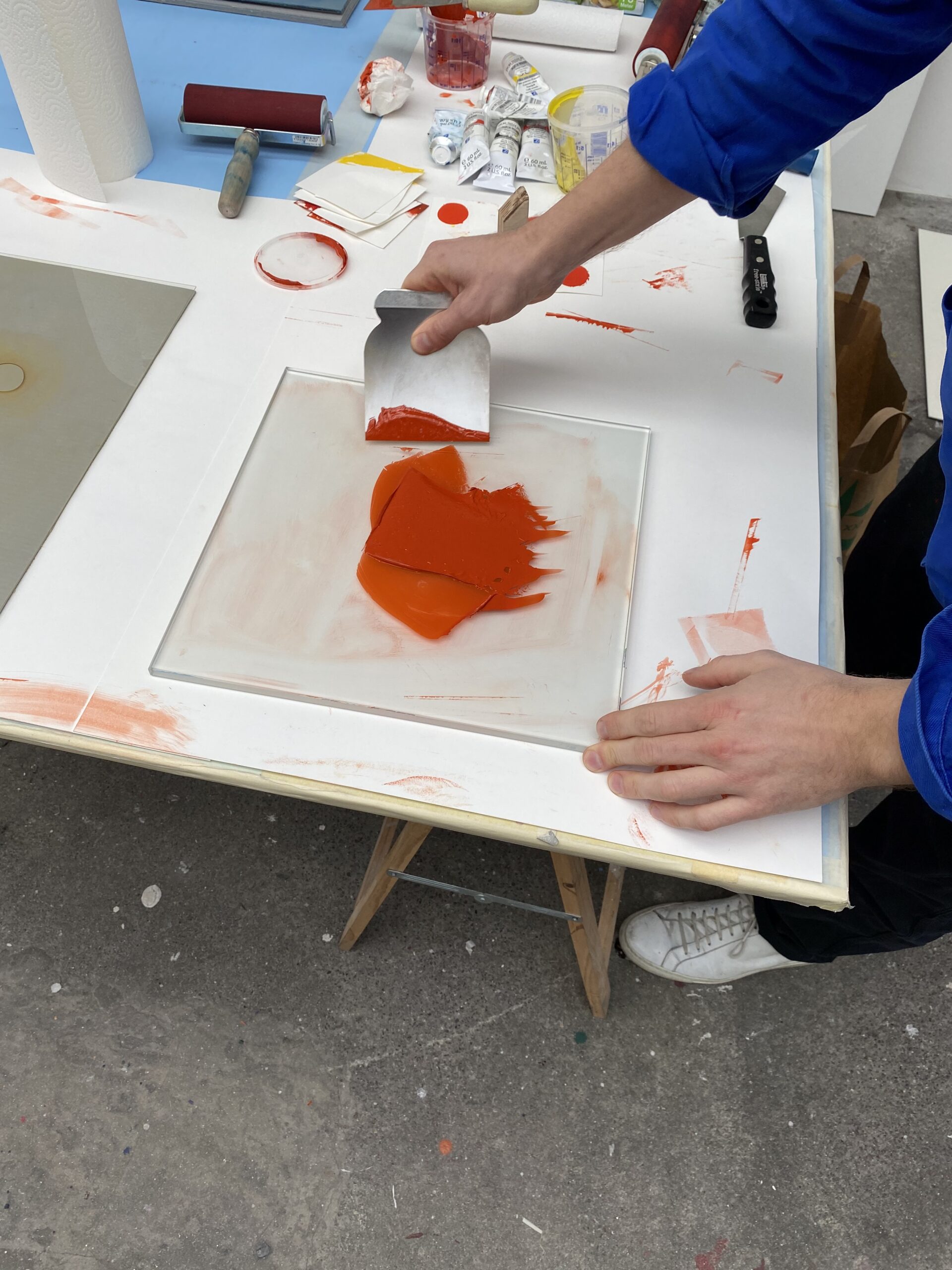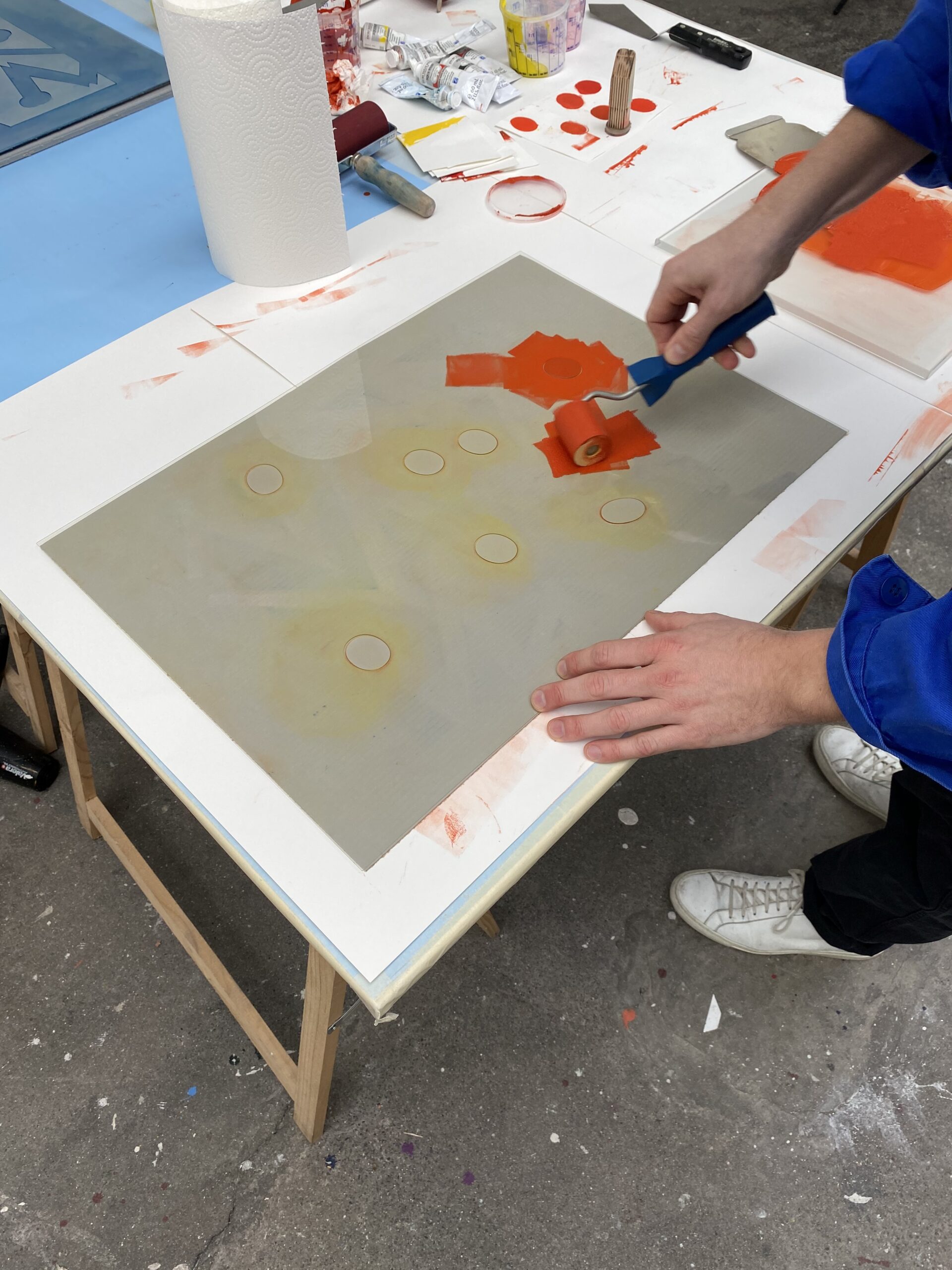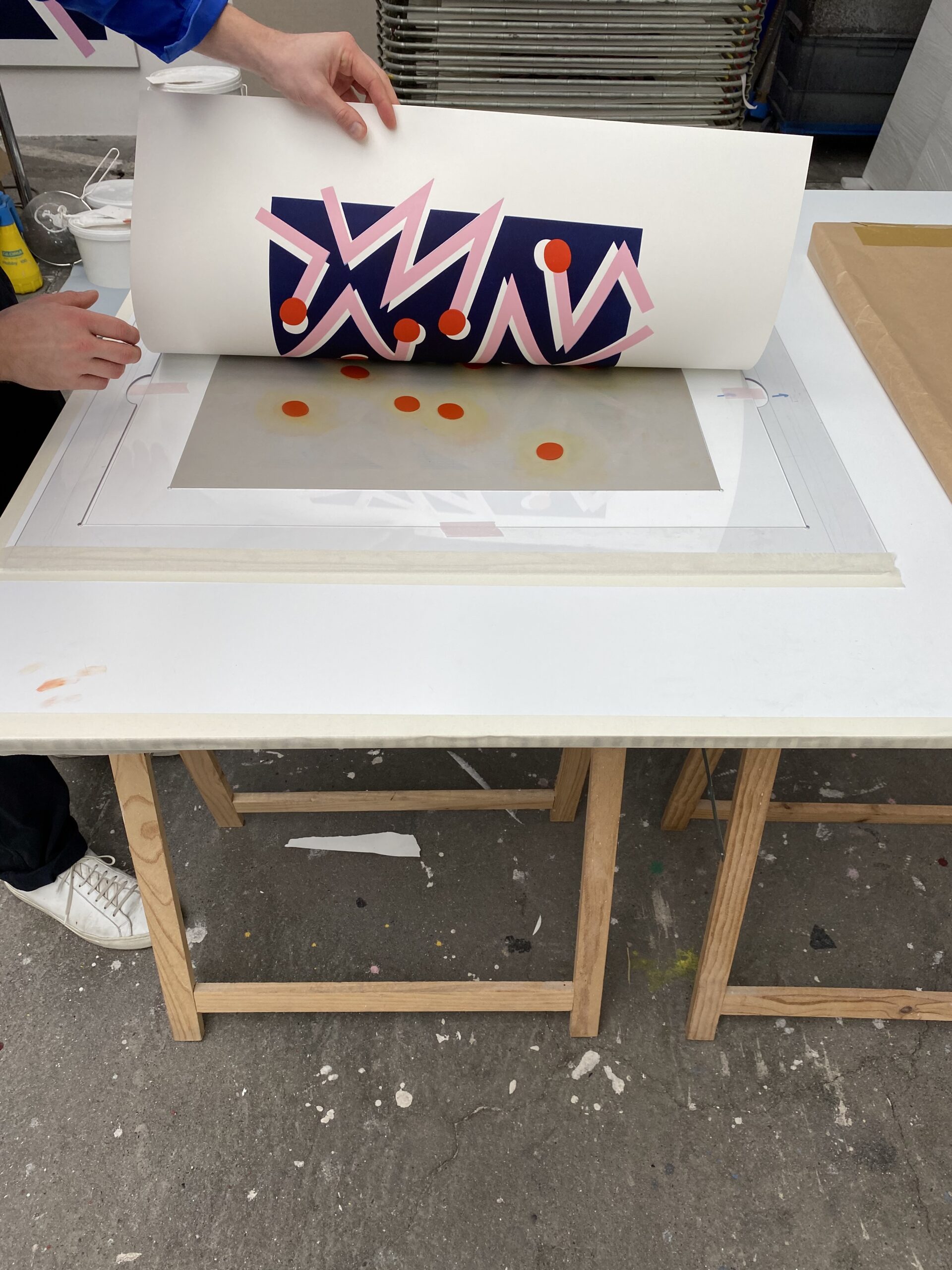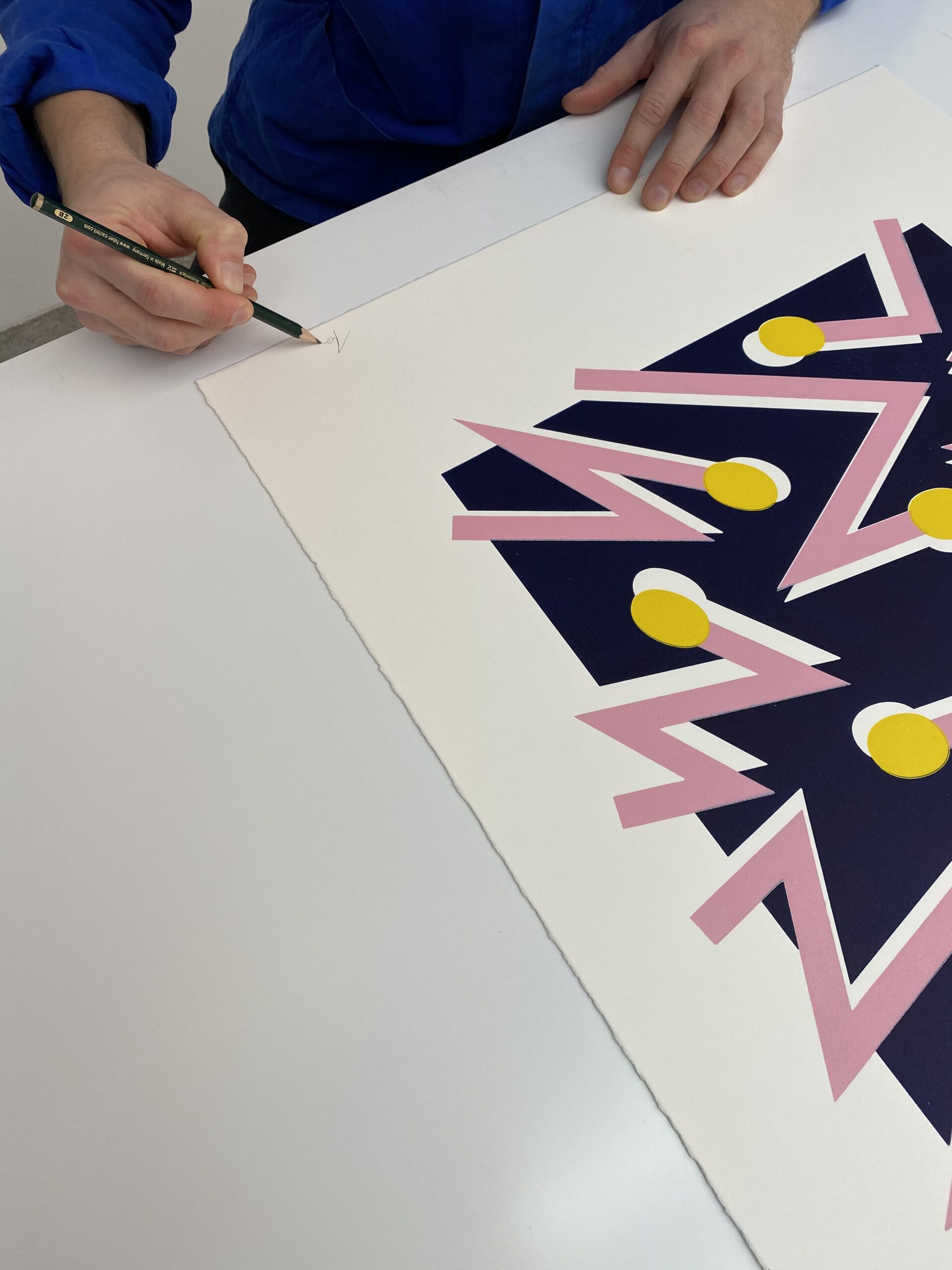 Other works by Thomas Wachholz: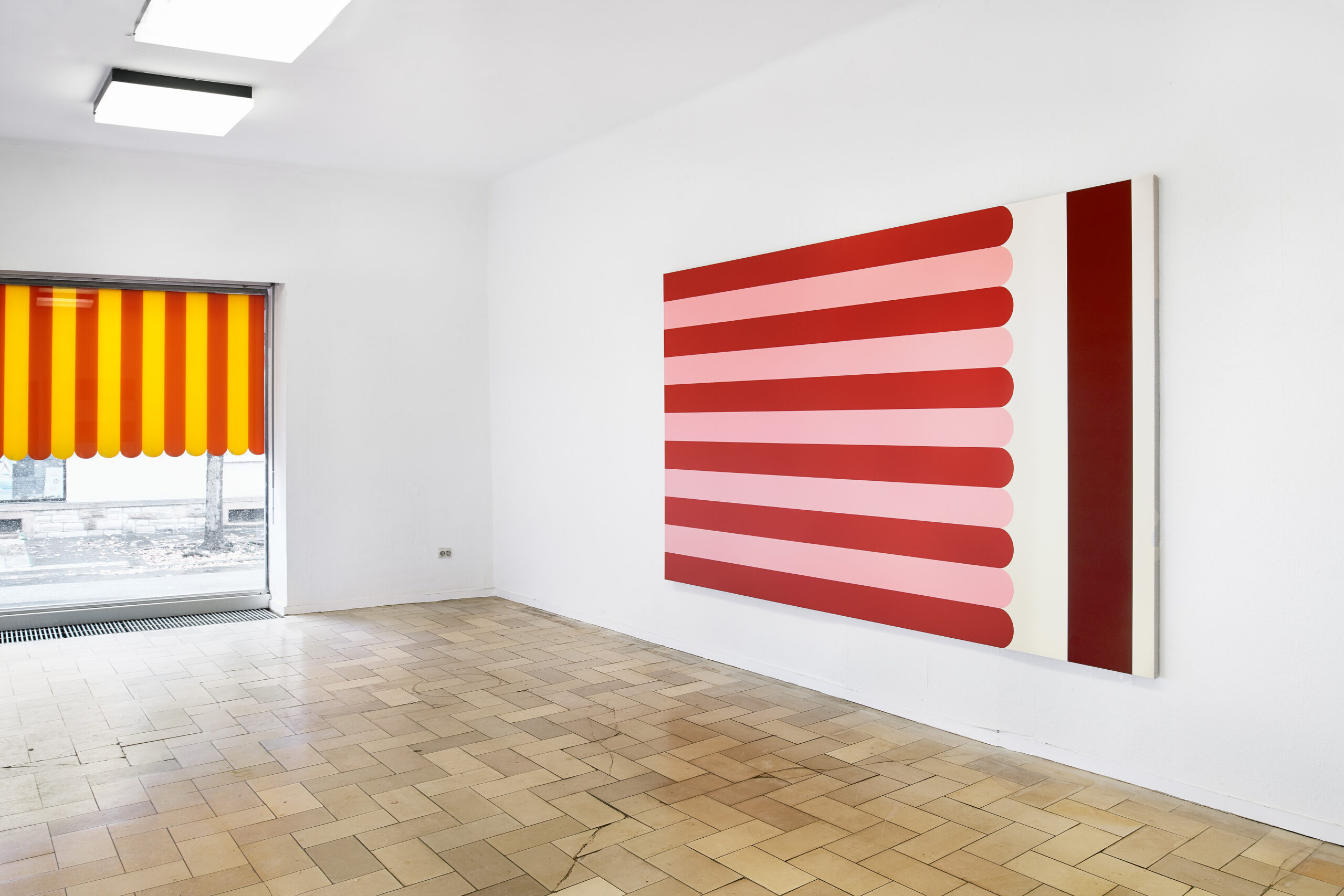 © Alwin Lay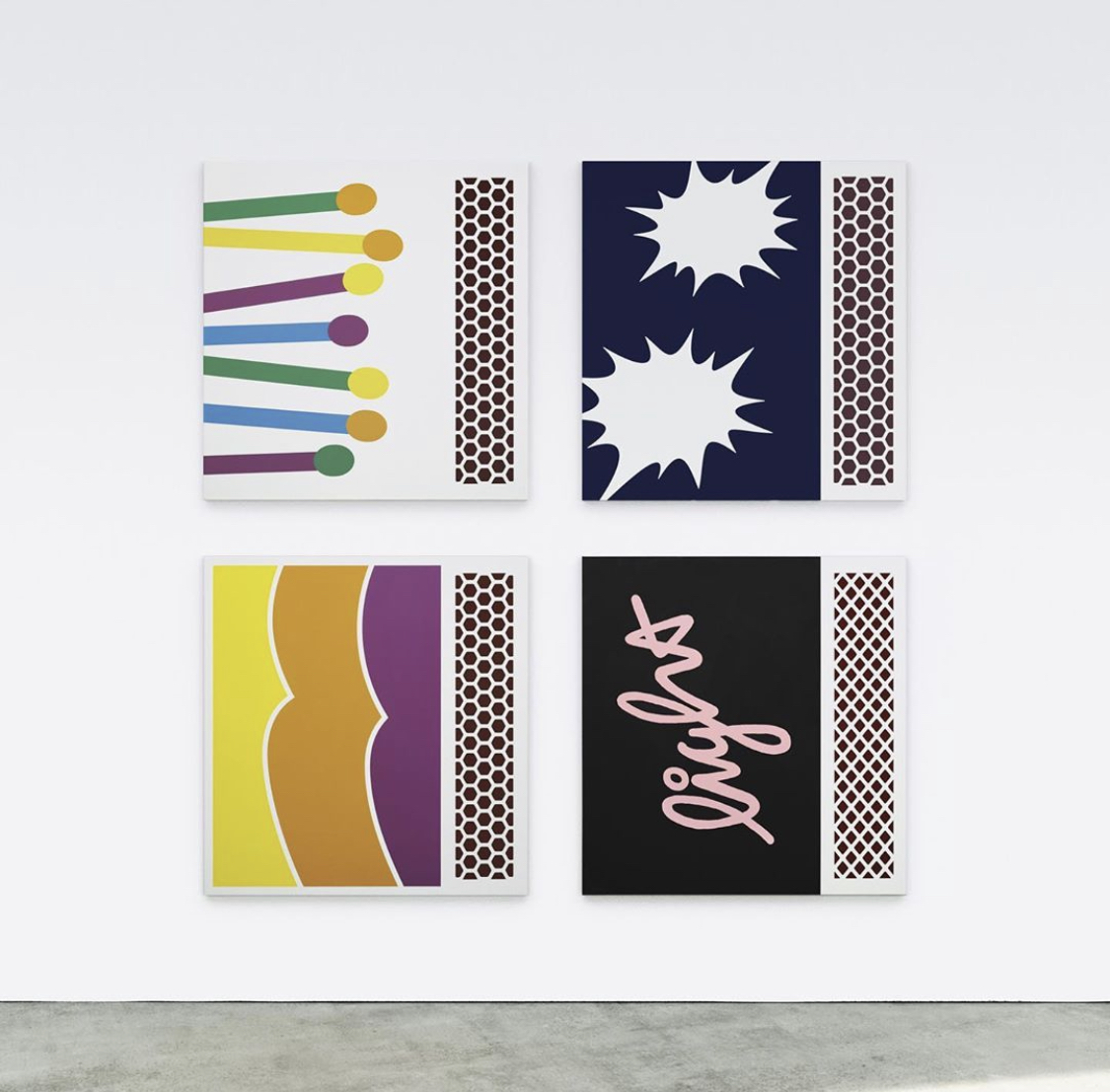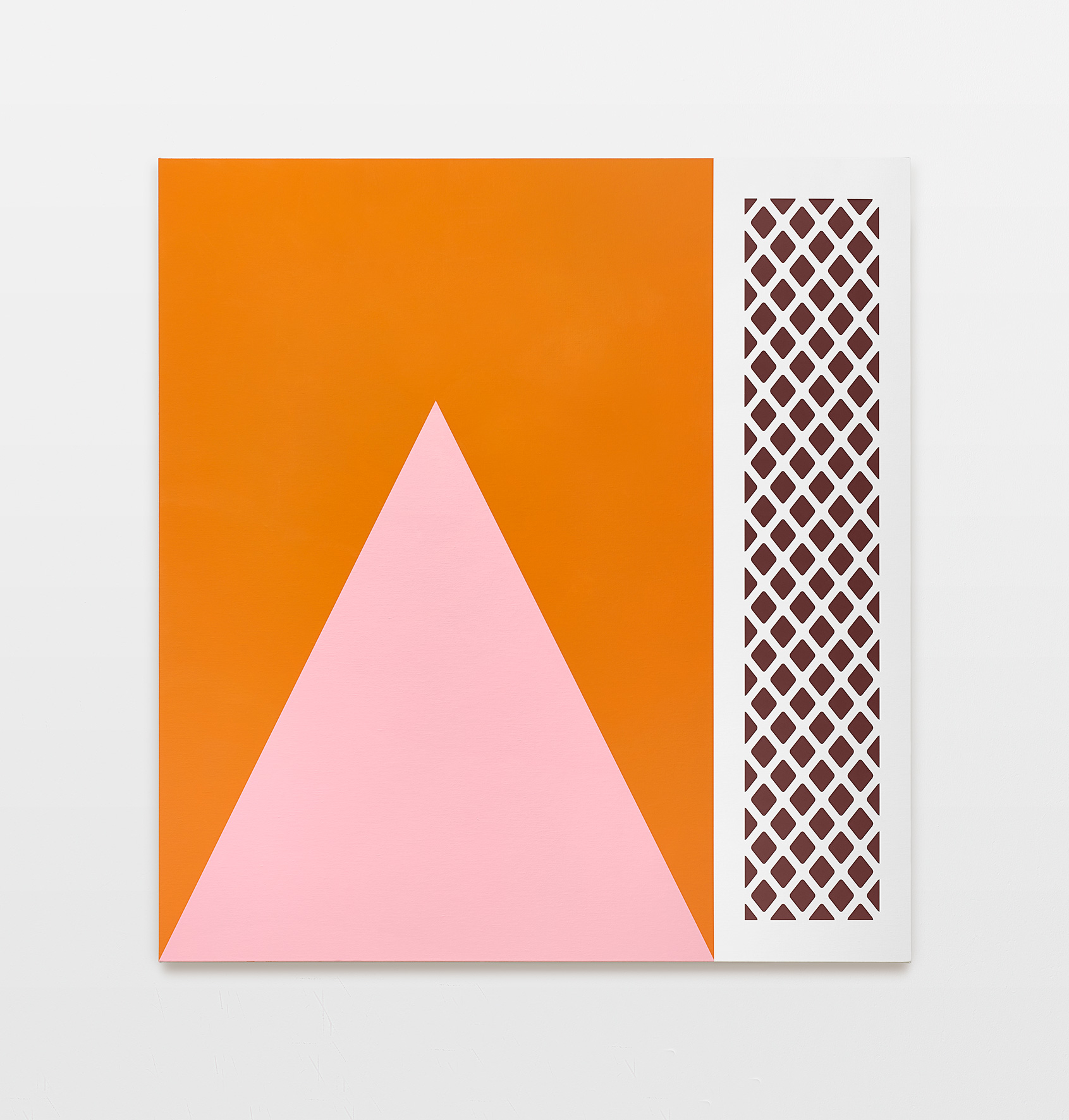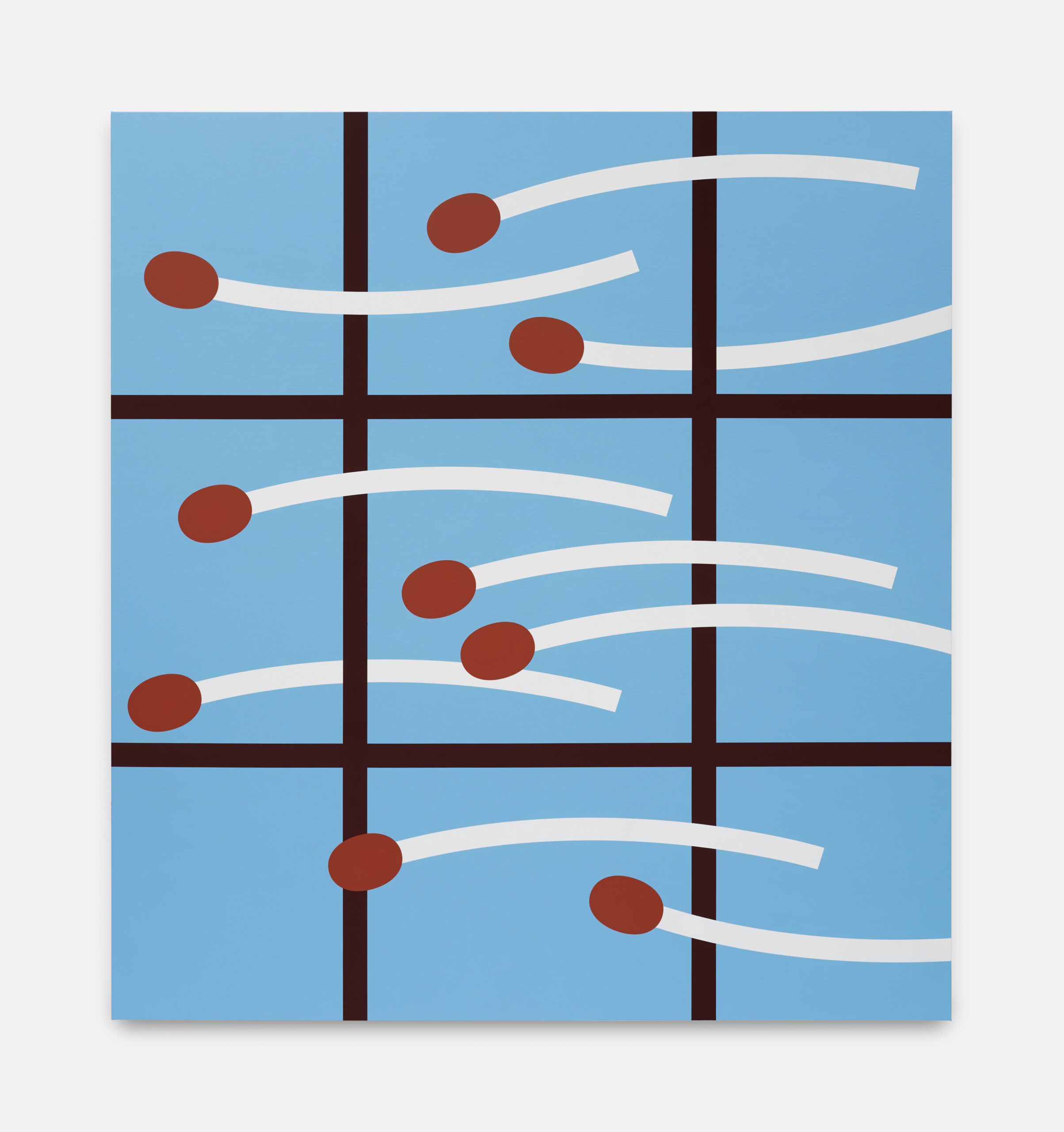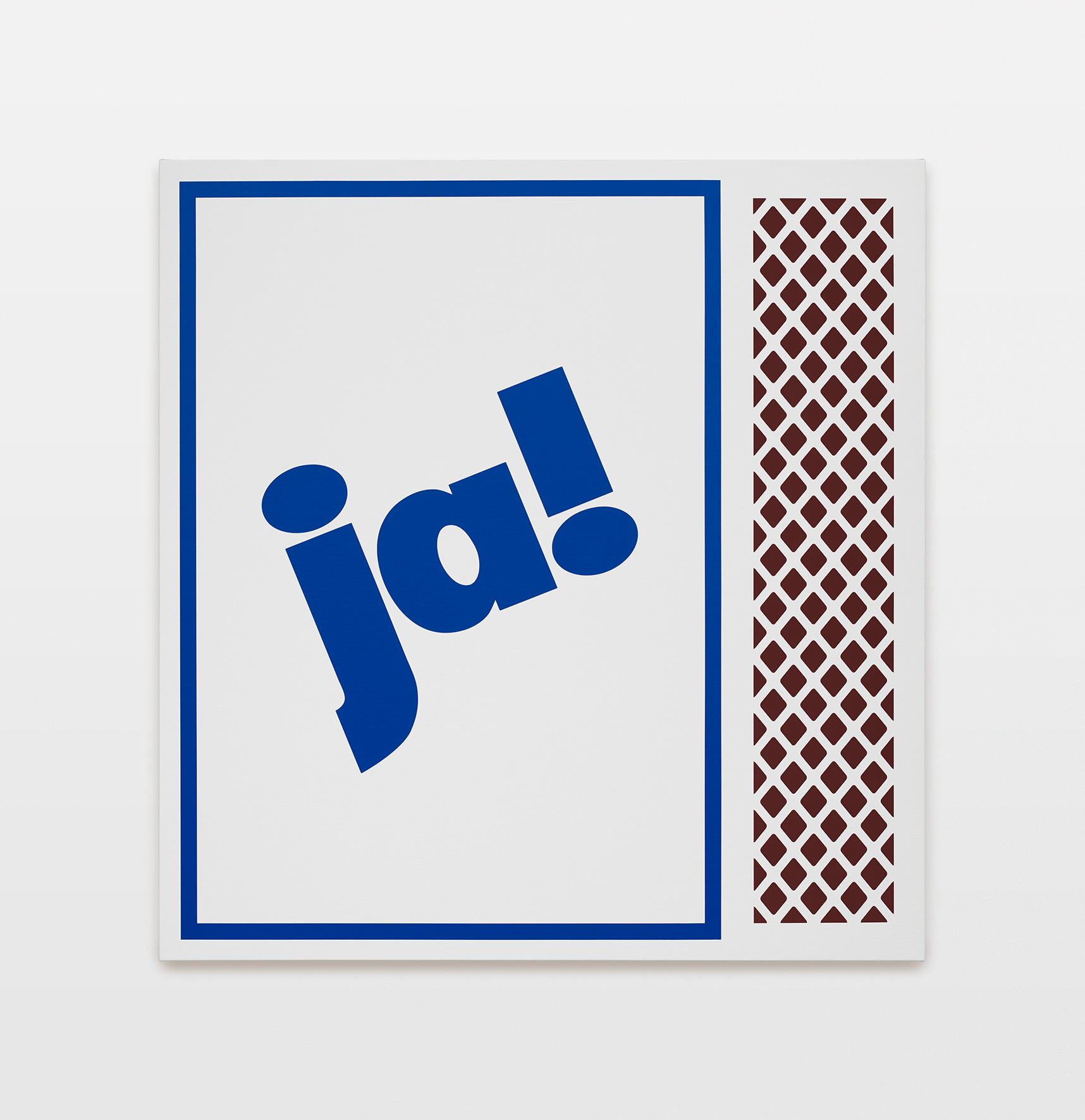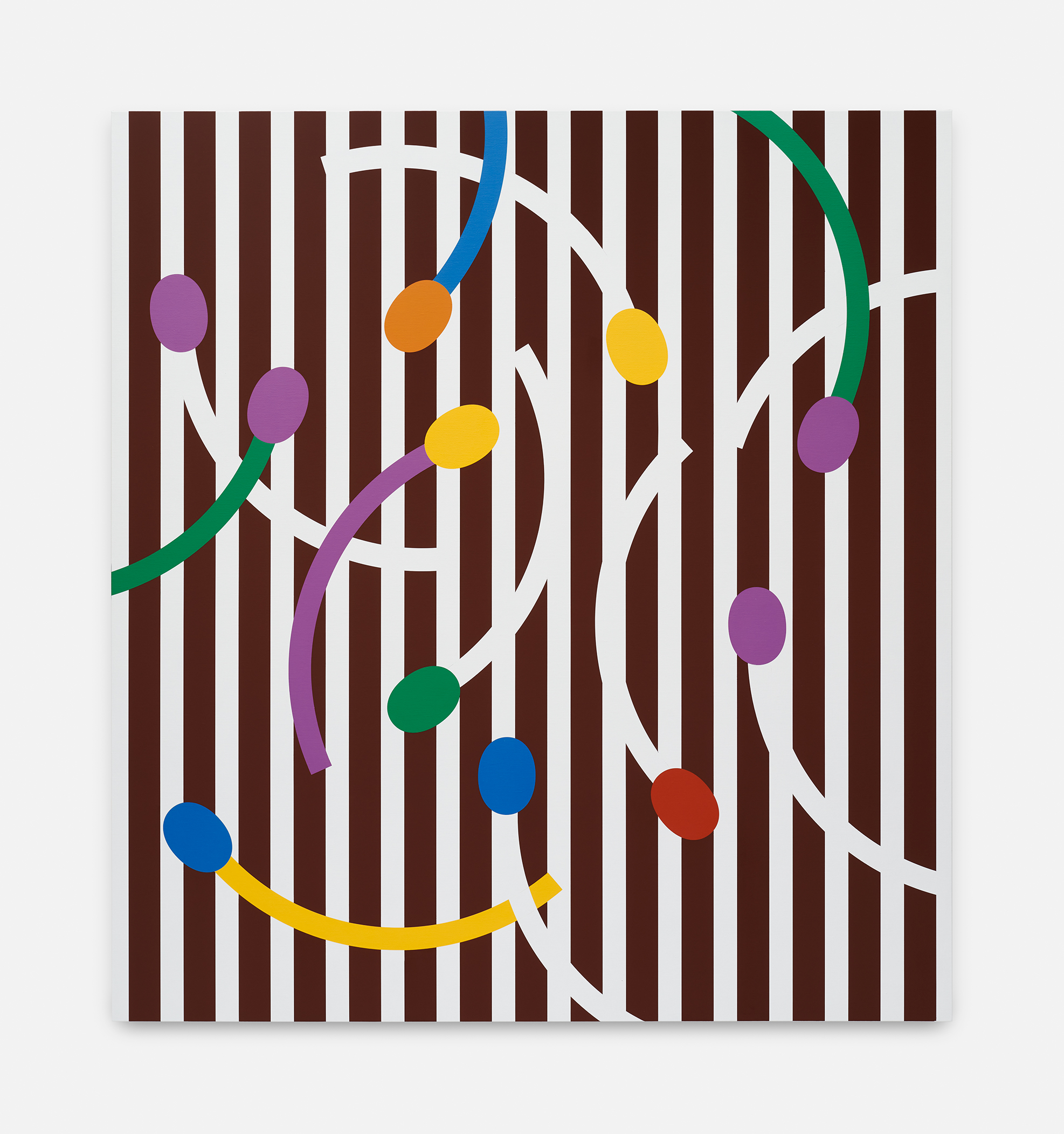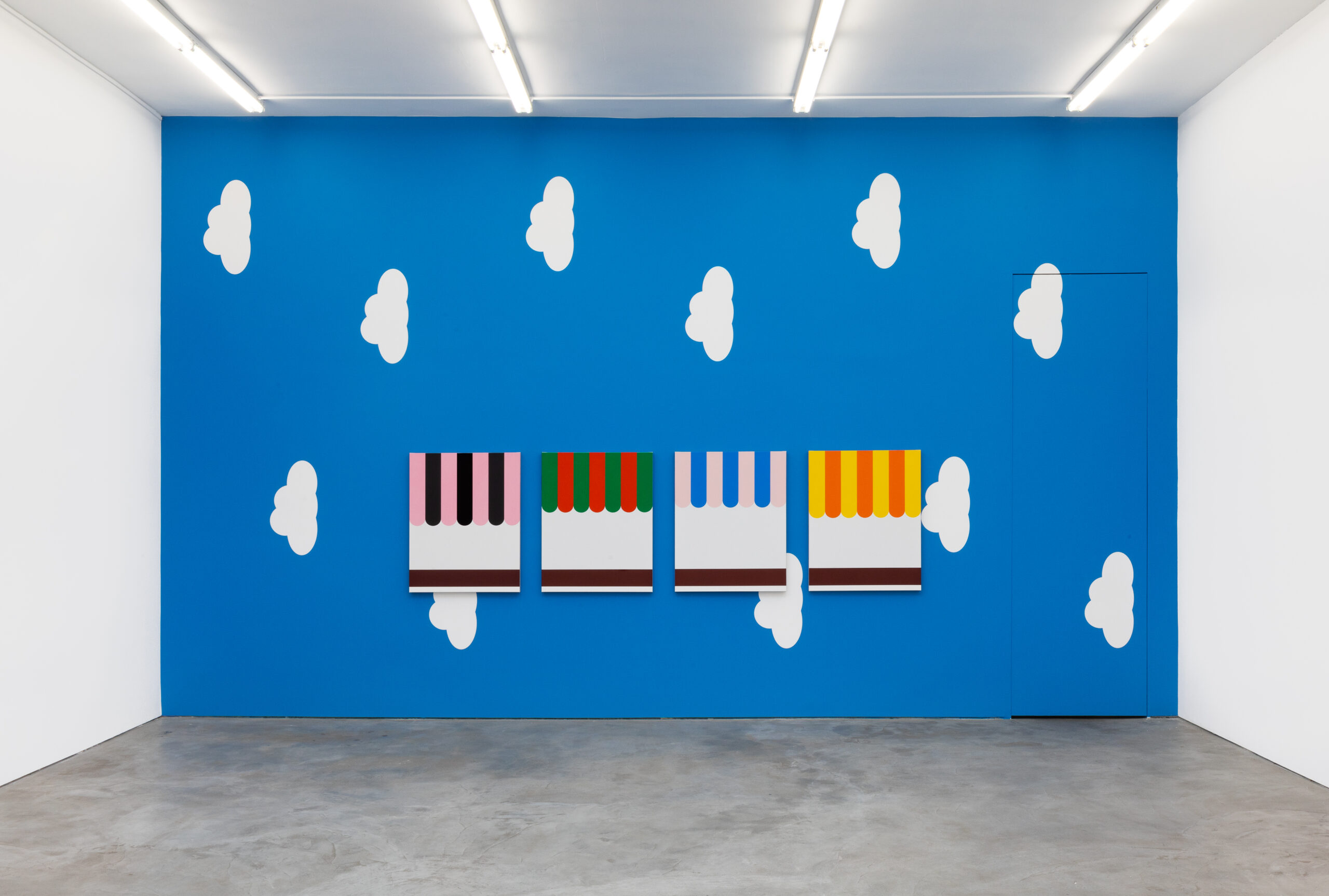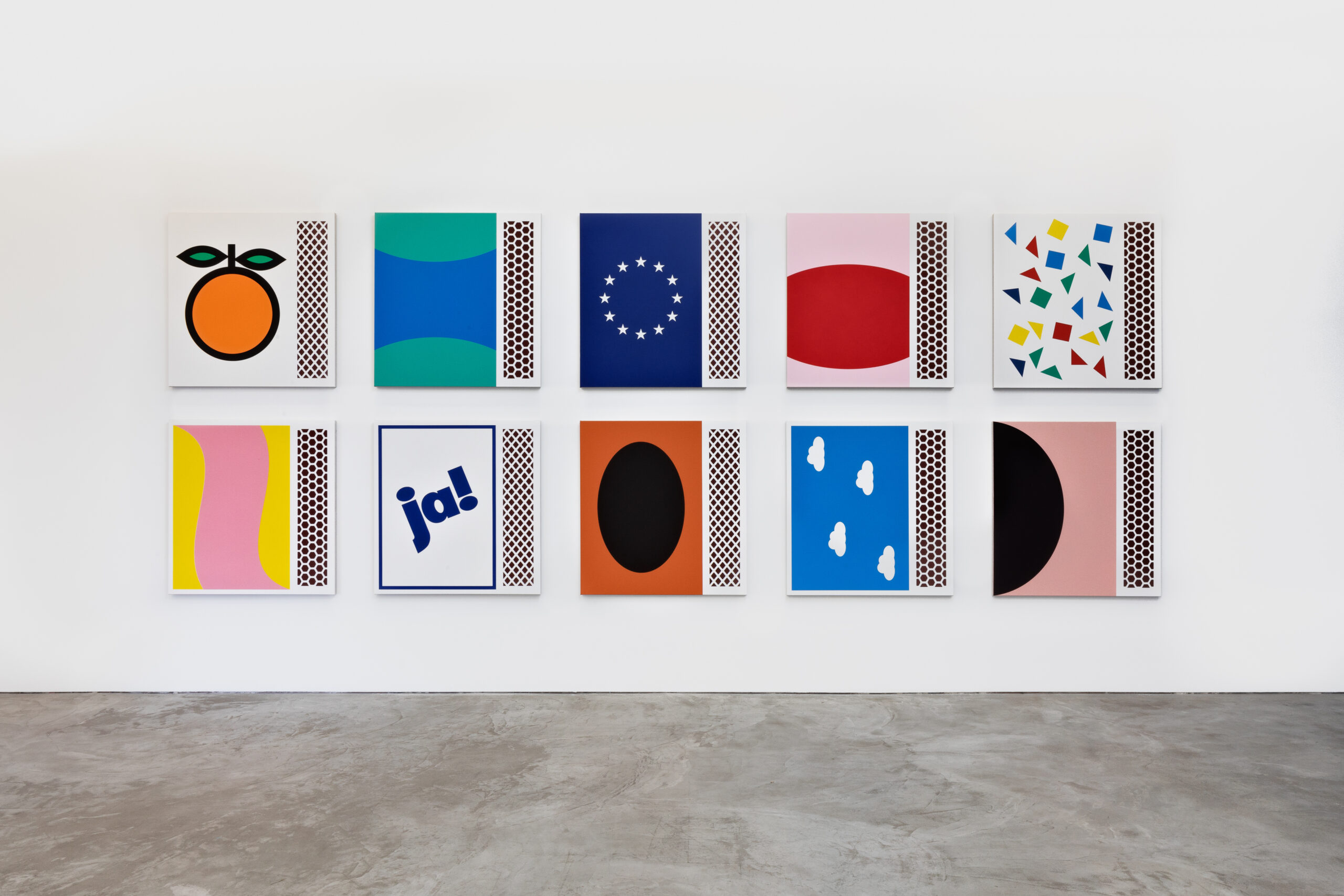 © Mareike Tocha
More about Thomas' work:
Thomas Wachholz Editions